Customer who took advantage of our testing and prototype services
We had a project that we were having trouble with rivet testing, but we learned about Koki Shokai's riveting testing services and asked for advice.
That's what I call a riveting professional! They were really helpful in pointing out the right problems and the speed of improvement was impressive as well.
Customer who used the Pneumatic Riveting Machine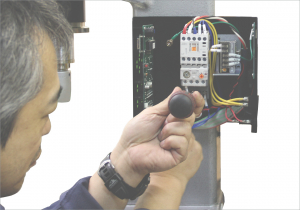 Koki Shokai's riveting machines have a simple design and rarely break down which is very helpful.
I'm very satisfied with the ease of replacing consumables and simple maintenance.
Above all, when I have a problem with something I don't understand, the fact that they answer and respond to me quickly is the greatest relief to me as a user.
Customer who used the Servo Riveting Machine
We implemented a Servo Riveting Machine from Koki Shokai.
Because it was developed with system upgrades (devices) in mind, it was highly customizable and easy to fit into our environment.
In addition, the ability to manage history and pressurization was also a deciding factor in our decision to install this system.
Customer who used the Servo Riveting Machine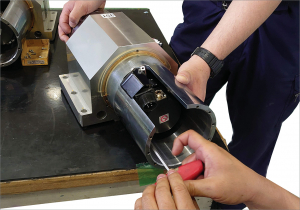 I contacted Koki Shokai and a representative came immediately to provide information.
When we talked, they were very positive about the development and customization of the equipment, which made me feel confident in Koki Shokai's abilities.
Our project size wasn't that big, but we appreciate the care and attention to detail.
They are a very reliable manufacturer.
Customer who used the Servo Riveting Machine
We introduced the Servo Riveting Machine at an overseas factory.
Even the workers at the site who were not skilled in riveting machines could operate it with no problem because of the digital value setting.
The responsiveness to problems that arose was even better than the rumors I had heard, and the service staff communicated with the head office to resolve them quickly.
With the dispatch of a service supervisor, we were able to improve the technical skills of the onsite employees, and now we have a quite stable operation.
Koki Shokai Sales Agent
I would like to thank them for their light footwork and sales support.
The product itself does not break down often, which is helpful for us as a distributor.
Koki Shokai's products are very easy to sell as a distributor because we have sold products to a wide range of industries.
As a distributor, we are happy because the system is easy to upgrade, so it is easy to increase the size of orders.